*All activities & menu items are subject to change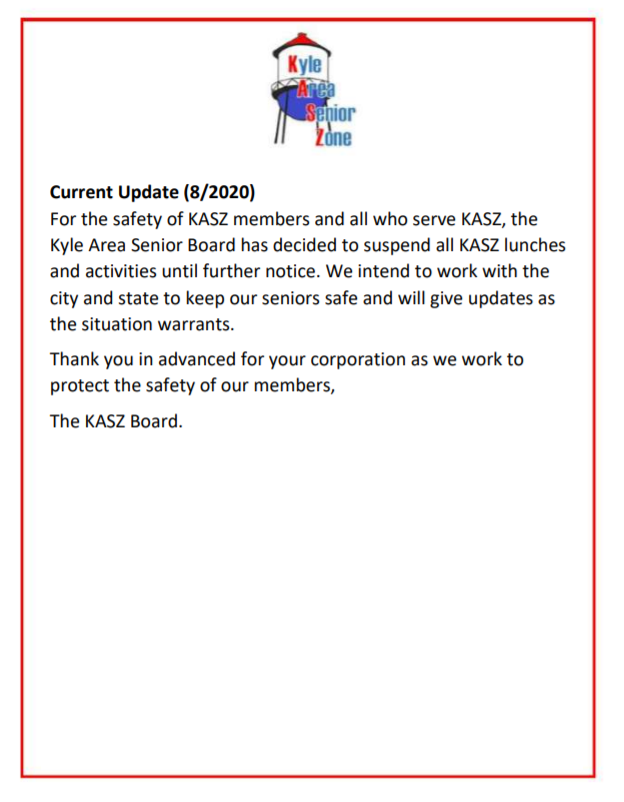 Find Out What is Happening Here!
KASZ members meet on a regular basis to share meals, enjoy entertainment, participate in educational, social and health-related programs, and become involved in many other activities! These activities promote the positive aspects of aging for seniors, their families, and the community.
If you have ideas for a program or entertainment, or if you would like to host/sponsor an activity or event, please contact us and let's make it work.
If inclement weather is in the forecast, KASZ will follow Hays CISD school closures. You are encouraged to access the following news sources for up-to-date information. https://www.hayscisd.net/ or http://haysinformed.com/
Check out our Regular Activities and this month's Featured Items!
Click on the activity you want to know more about
(date, time, description and etc.)
Check out these New Activities!!
---
---
Featured Item(s)

---
---
KASZ Happenings
---
ARTS & CRAFTS CLASS
(2nd Mondays of the month)
1:30p – 3:30p
Come join the KASZ KRAFTERS and have
FUN learning new arts & crafts each Tuesday!
Featured Craft for March: Handmade Easter/Spring Cards
PLEASE RSVP (materials provided)
BIBLE STUDY
(Thursdays)
3:30p – 4:30p
A Weekly Bible Study beginning with a
10wk study of EPHESIANS.
BINGO
(3rd Thursdays of the Month)
10:30a – 12:00p
Feeling Lucky? Will you be the first to yell, "BINGO"?
Penny Bingo (quarter to play coverall)
(limited to KASZ members only)
COUSHATTA ROAD TRIP
This exciting and fun trip is organized by one of our dedicated members. The Coushatta Road Trip is usually scheduled to happen 3 times a year during the months, March, June & October.
Next Trip Scheduled:
March 2nd, 3rd, & 4th – Cancelled
DOMINO CLUB
(1st, 2nd & 4th Wednesdays)
1:00p – 3:00p
Love to play Dominoes? Do you want to learn the games? This club is for you! Currently the club is playing 42. Beginners welcomed and members are happy to teach those wanting to learn.
GROUP EXERCISE
(Mondays, Wednesdays, Fridays)
Instructor: Katie w/ Live Well Fitness. Senior Fitness classes are free to eligible Silver Sneakers Members, but has a small fee for Non-Silver Sneakers Members. (Not organized by KASZ)
[Click here for classes, registration & prices]
INTERMEDIATE LINE DANCE CLASS & GROUP
(Thursdays*)
12:15pm – 3:00pm
Love to Line Dance?! Come check out this Class & Social. Participants learn unique intermediate & advance line dances and have a blast while doing it! The class is more than just a class, but a group of individuals who love to have fun!
*Every 3rd Thursday of the month, group does not meet for class
JAM SESSION
(3rd Sunday of the Month)
3:00pm – 6:00pm
Come Play! Come Sing!
Come Dance! Come Listen!
House band provided by John Russell
$ Tips Welcomed and Appreciated $
"KASZENIARS" SING-A-LONG
(2nd Sunday of the Month)
2:00pm – 4:00pm
Love to Sing? Come sing by the piano with the KASZENIARS! Song Sheets Provided.
Just want to listen? Come hangout with us!
KASZ SATURDAY NIGHT DANCE & SOCIAL
(Last Saturday of the Month)
6:00pm – 9:00pm
Come Dance! Come Sing! Come Hangout and have Fun! BYOB & Snacks. Music provided by "Legends-N-Time" John Hanson
Tips welcomed and appreciated
KYLE QUILTERS
(2nd Monday of the Month: 6:00pm – 9:00pm)
Business Meeting, Show-N-Tell & Class
(3rd Saturday of the Month: 8:00am – 4:30pm)
Sew all day! Potluck
The Kyle Quilters are made up of a group of spirited individuals
who LOVE QUILTING. They are one the most popular groups that our seniors participate in.
All Quilters of all Ages Welcomed!
LEGAL ADVICE
(Available 9:00am – 5:00pm, Monday thru Friday by Appt.)
KASZ has a retired lawyer, Dave Garza, who is volunteering to provide legal advice (limited to helpful advice & direction).
Click here for Contact Information
SCRIPTURE REFLECTION
CANCELED UNTIL FURTHER NOTICE
Read the Gospel of Matthew through reflection & faith sharing.
Don't forget to bring your Bible and a Journal.
SENIOR WORKSHOPS
(Selected Mondays & Wednesdays, check calendar for date & topic)
1:00pm
KASZ is committed in educating our Seniors through professional lectures/programs on topics of Mental, Emotional, Health & Wellness, Financial, Spiritual, Technology and More!
~It's Never Too Late To Learn~
Lite snacks & drinks usually provided
THURSDAY GAME NIGHTS
5:00pm – 9:00pm
Cards, Dominoes, Board Games,
Poker, Texas Hold-em, Phase 10
Bring lite snacks & dish to share (BYOB)
TEJANO DANCE CLASS
(Thursdays*)
10:45am – 12:00pm
Learn how to dance to Tejano Music.
(No Partner needed)
Polkas – Rancheras – Cumbias
*Every 3rd Thursday of the month, group does not meet for class
TUESDAY LUNCHEON [Menu]
12:00pm – 1:00pm
Enjoy a Nutritious Meal & Dessert for only $3.00.
Live Entertainment, Fun Group Games, Sing-A-Longs, Comedians, Inspirational/Motivational Talks, Birthday Celebrations,
New Members Introduction and More.
TUESDAY MORNING GAME DAYS
9:00am (Before Lunch)
Cards, Dominoes & Board Games
(42 Dominoes, Bridge, Super Samba, Canasta, Checkers,
Board Games & More!!!)
TUESDAY NOON GAME DAYS
1:00pm – 4:00pm (After Lunch)
Cards, Dominoes & Board Games
(42 Dominoes, Bridge, Super Samba, Canasta, Checkers,
Board Games & More!!!)
VOLUNTEERING & DONATION DRIVES
KASZ happens because of its volunteers.
Feel called to help? Let us know!
We Love Our Volunteers!!! Thank You!!!
Check out our Volunteer Page for Current Donation Drives and ideas of where you can Volunteer in the Community and in KASZ.


If inclement weather is in the forecast, KASZ will follow Hays CISD school closures. You are encouraged to access the following news sources for up-to-date information. https://www.hayscisd.net/ or http://haysinformed.com/