Past, Present and Future
The Kyle Area Senior Zone, Inc. (KASZ) was formed in February 2006 to afford a variety of social, educational, health and recreational activities to the senior residents of the Kyle area. Our Founder and 1st President was Adell Hurst. Adell Hurst was a Kyle community activist and senior citizen advocate. Her memory is honored and recognized by the main ballroom of the Krug Activity Center named after her.
KASZ has become an integral part of the Kyle area community, a place where KASZ members can meet on a regular basis to form relationships with other seniors, enjoy meals together, learn new skills, take trips together and participate in volunteer and job opportunities. These activities promote the positive aspects of aging for seniors, their families, and the community.

Currently, KASZ's location is at the Krug Activity Center (KAC)
101 S. Burleson St.
Kyle, TX 78640
***Activities are held in the Adell Hurst Room***

KASZ is in the planning phase of expanding and building a new state-of-the-art Senior Activity Center in the Kyle area. Visit our Bigger Dreams Page to follow our dream and how you can help us achieve this dream.
Membership is open to all people 50 years and older living in the city of Kyle & Hays County without regard to race, religion, color, sex, or national origin. Disabled adults who would benefit through our organization are also welcomed to join.
Visit our Membership Page to learn more about how to become a member and join this active community center!
For more information on what happens at KASZ, click here.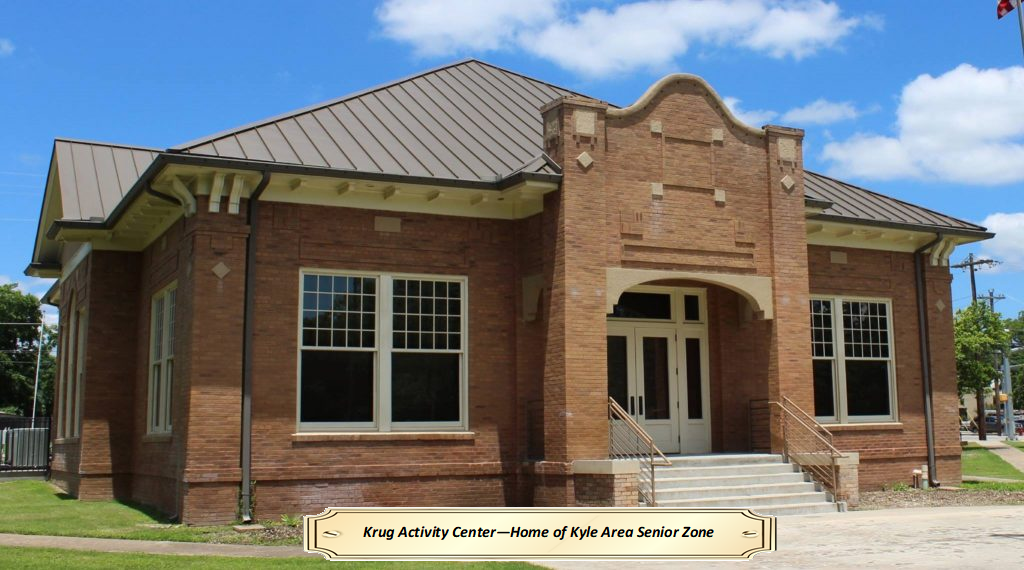 Krug Activity Center (KAC)
The City of Kyle provides the Krug Activity Center to KASZ. Krug Activity Center also serves as a community center to provide space for city activities that have long been associated with this building, including non-profit organization meetings, social events, and functions.

The City of Kyle also rents Krug Activity Center to private individuals. For more information on rental, contact City of Kyle Parks and Recreation at (512) 262-3939